Dust:Offroad Racing Android Game Download
The most advanced offroad racing for android is finally here, for FREE!!
XPERIA PLAY USERS: CHANGE YOUR CONTROL TO THE TOPMOST ICON (AUTOGAS+ARROWS) IN THE OPTIONS/CONTROL MENU. IT'S ALLOW THE USE OF THE HARDWARE BUTTON PLAY ON YOUR DEVICE !!
Race in 2 different game modes, or practice your driving skill on any of the terrains.
You need a powerfull device with at least 2.2 OS, and a fast (1GHz or faster) CPU to play it without limitations.
Other FAST devices are also supported, but you need at least a 800*480 or better screen resolution to play. Do not forget: it's a high quality game for 3D gaming ready devices !
If you have a lower screen resolution phone, or a weaker CPU, you can also take a try, but we can't give you a guarantee about playability on these low end devices.
The game modes are :

GATE HUNTER:There are 8 gates on the terrains.
Try to be the first to reach them in order.
No two same game, just becouse the gates are random ordered
on every game start.
The first 3 placements are valuable
to get points and coins at the end
of the race.

Don't forget to upgrade your car with a
nitro ready engine to be faster !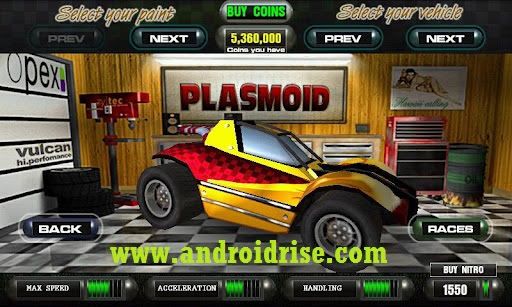 LAST MAN STANDING:
The last racer who reach the gate in order,
will be elimininated.
No two same game, just becouse the gates are also
random ordered on every game start.Can you be the last man standing ?
A car with a nitro ready engine is always
faster than others !
PRACTICE
No other cars, no race, just you!
Learn the gates and enjoy the the
drive over the available terrains
as long as you want, without any
limitations.
You have unlimited nitro in this game mode
to practice the use of it.- 7 High quality terrains - like no others on Android
- Offroad racing with 6 different offroad cars
- 4 different custom paints with every car
- 3 game modes
- Outstanding music and high quality sound effects
- Advanced particle effects
- Custom graphics options as HQ terrains, or realtime shadows
- Buy new cars, paints, terrains, or nitro for virtual currency

Download Dust:Offroad Racing Android Game