SMSVoice Android App Full Download.Gives a voice to your phone!
SMS Voice Thanks to "SMS Voice" you can listen to incoming messages, notifications, the name of the person you are calling and much more
It gives a voice to your phone!What is different from other similar applications?
The simplicity and high configurability of the program.
It 's possible to configure almost everything is delivered and / or made by the program.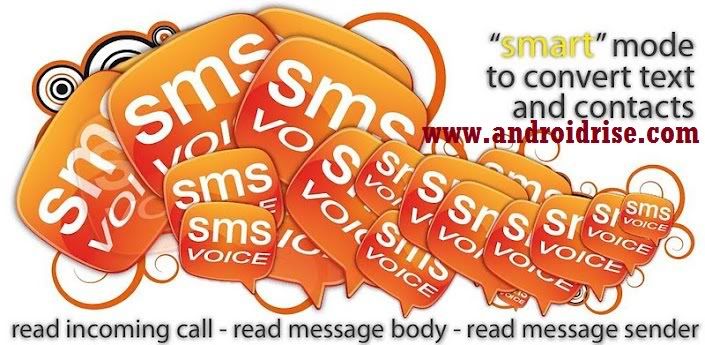 SMSVoice Android App Full Features:
- Ability to hear the name of the person you are calling. If the name is not on the phone, you are given a text previously chosen by you.
- Ability to hear the name of the person who sent the SMS (like phone calls, if the number is not in the phonebook, the program pronuncierà a text chosen by the user).
- Ability to read the message arrived.
- Ability to turn off each module, the call control to the control of SMS arrived (individually addresses and / or message).
- Management unknown to choose what to say instead of the phone number.
- How "SMART" to replace certain words or phrases in messages or contacts who are calling.
- Ability to choose which modules to implement the rules SMART.
- Full service running in the background.
- In cases where the text messages arrive during a call, but will not be read taking into account the number of text messages. At the end of the call the program will tell you how many text messages have arrived.
- The ringing of the phone is gradually lowered before pronouncing the name of the contact is calling you, then the ringtone will be restored to the original volume.

Download SMSVoice Android App Full