SpeedCam Detector Worldwide Android App Download.
Turn your Android phone into Speed Camera Detector! No more speeding tickets! You will be warned when you approach a speed cam with alarm sound and you will be able to see what is speedcam speed limit.
SpeedCam Detector Worldwide Android App Features:
- Very simple and lightweight user interface
- Can work in background so you don't have to keep the app on screen
- Works in offline mode. Internet connection is not required.
- You can view all speed cameras on the map of chosen country (requires internet connection)
- Customizable sounds- Works in any country
- Shows your driving speed- Interface supports English, German, French, Spanish, Italian, Lithuanian, Russian languages
System requirements:- Android operating system 1.6 and up- Internet access for map overview- Internal GPS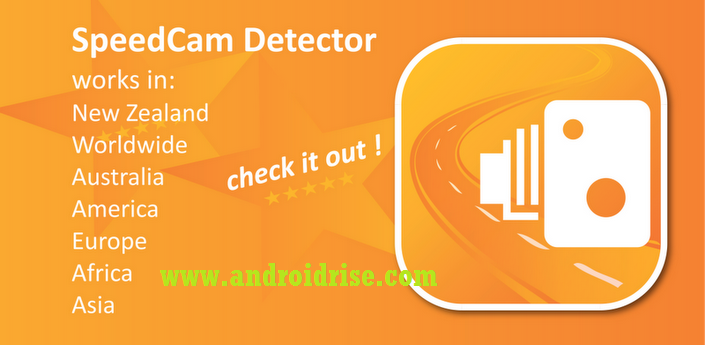 SpeedCam Detector Worldwide Android App Download
Note: speed cameras, radars database contains WORLD countries:
Andorra*Argentina*Armenia*Australia*Austria
Belgium*Bosnia and Herzegovina*Brazil*Bulgaria
Canada*China*Croatia*Cyprus*Czech Republic
Denmark*Estonia*Finland*France*France DOM-ROM
Germany*Greece*Hong Kong*Hungary*Iceland*Ireland
Israel*Italy*Jordan*Kuwait*Liechtenstein*Lithuania
Malaysia*Malta*Morocco*Namibia*Netherlands*New Zealand
Norway*Oman*Poland*Portugal*Qatar*Romania*Russia*Saudi Arabia
Serbia*Singapore*Slovakia*Slovenia*South Africa*Spain*Sweden
Switzerland*Taiwan*Thailand*Tunisia*Turkey*USA*Ukraine
*United Arab Emirates*United Kingdom*Zimbabwe

Download SpeedCam Detector Worldwide Android App Download.