The File Converter Android App Download.Convert files to nearly any format! Videos, Audio, Images, Documents etc!
Convert Video, Audio, Images, Documents, E-books and archives between nearly any file formats! The most complete and full-featured file converter on the market!
Files are converted in the cloud so your battery is not wasted and conversion speeds are much faster!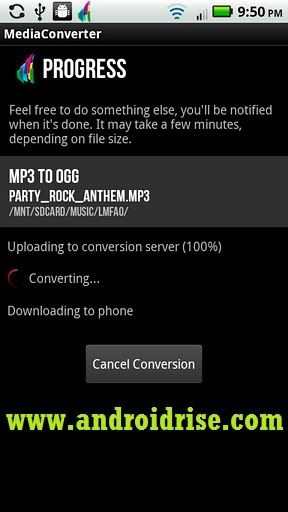 Convert files Android App Supported file types:
VIDEOS: Convert nearly any format to 3GP, 3G2, FLV, MKV, MP4, MPEG-2, OGG, WEBM, or WMV.
AUDIO: Convert nearly any audio format to MP3, OGG, WAV, WMA, AAC, FLAC, M4A, or MMF.
IMAGES: Convert nearly any format to JPG, PNG, BMP, EPS, GIF, HDR, EXR, SVG, TGA, TIFF, WBMP, or WEBP.
DOCUMENTS: Convert just about anything to PDF, DOC, TXT, ODT, FLASH, or HTML.
EBOOKS: Convert ebooks between many formats such as EPUB, MOBI, PDF, LRF, FB2, LIT, PDB, TCR.
ARCHIVES: Convert files to archives, or convert between archive formats! Supports ZIP, BZ2, 7Z, and GZ.
*Note: DRM-ed files such as some e-books or old iTunes music, along with any password-protected files such as some secure PDF's cannot be converted.*
*Note: There is a 100 MB limit per file. You cannot convert a file larger than 100 MB*
- Extract music from MP4s of FLVs with MP4-MP3 conversion!
- YOU MUST have an internet connection to use this app. Files are uploaded to the cloud, converted, and then downloaded to your phone.
- You should install OI File Manager in order to select files directly from your phone, without it you can only select from your picture, video, and music galleries.

Download The File Converter Android App